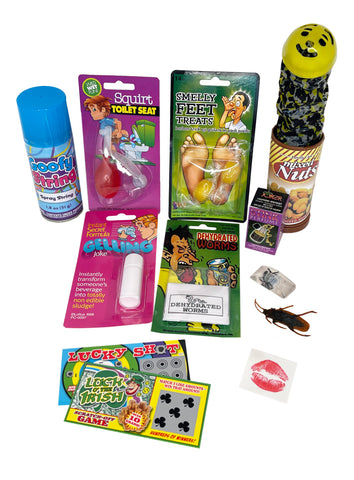 Tease Your Girlfriend Prank Kit
Driving our girlfriends crazy is what us guys do best. We have assembled 10 crazy pranks that will drive her over the edge and have you laughing your ass off.
Bar Bug: Just drop this in her drink and wait for the screaming to begin.
Creepy Cockroach: They hate bugs and especially this one.
Fake Lip Tattoo: Just apply to your neck or shirt and wait for the fireworks.
Fake Lottery Tickets: These look just like the real deal and each is a winner until she reads the back.
Gelling Joke: Pour about a 1/3 of the bottle into her drink when she gets up. In a matter of seconds it turns the liquid into a solid.
Goofy String: Go ahead spray it all over her. Harmless fun that easily comes off.
Instant Worms: Drop a few in her drink and watch them grow..... YUCK!
Snake In A Can: Looks like a can of nuts until she opens it up.
Squirt Toilet Seat: Get her with her pants down. Attaches to toilet and when she sits down........SSSquirt!
Stink Perfume: This stuff smells like rotten eggs. She'll love it..... NOT!
Smelly Feet Treats: Do we really need to explain what this tastes like?